A significant share of the state budget of Azerbaijan is spent supporting government employees who participate in repression and falsification of elections. Thus, the regime puts these groups under its control and increases the repressive impacts of oil revenues.
About the Author: Gubad Ibadoghlu, Senior Policy Analyst for social and economic studies at Azerbaijan's Economic Research Center, a Baku-based NGO that promotes economic development and good governance.
The 2019 state budget is projected to receive $6,684 billion (11,364 million AZN) from the State Oil Fund. With taxes paid by State Oil Company of the Azerbaijan Republic (SOCAR) and the Azerbaijan International Operating Company (AIOC), oil revenues make up 60% of the total state budget. What are these funds are spent on?
The largest portion – about two thirds – of the state budget of Azerbaijan is spent on investments, social protection, administration, and defense. In 2019, a significant part of the budget was allocated to social programs. Let us examine these programs and who are they benefitting.
According to an official statement, the total value of 2019 social programs in the country is $1,353 billion (2,3 billion AZN) and will increase to $1.765 billion (3 billion AZN) in 2020.
The Opinion of the Chamber of Accounts on the annual report on the execution of budget for 2018 of State Oil Fund of the Republic of Azerbaijan demonstrates that $4,233 billion (over 7,196 million AZN) was allocated for social expenses in 2018 – 7.6% more than the previous year.
Salaries amounted to 61.3% of these expenses. Every year since 2017, expenditure related to salaries have steadily grown (see chart below). In 2019 the expenses related to salaries would have an increase of 52.1% in comparison with 2018, while in 2020 this figure will increase by 68%.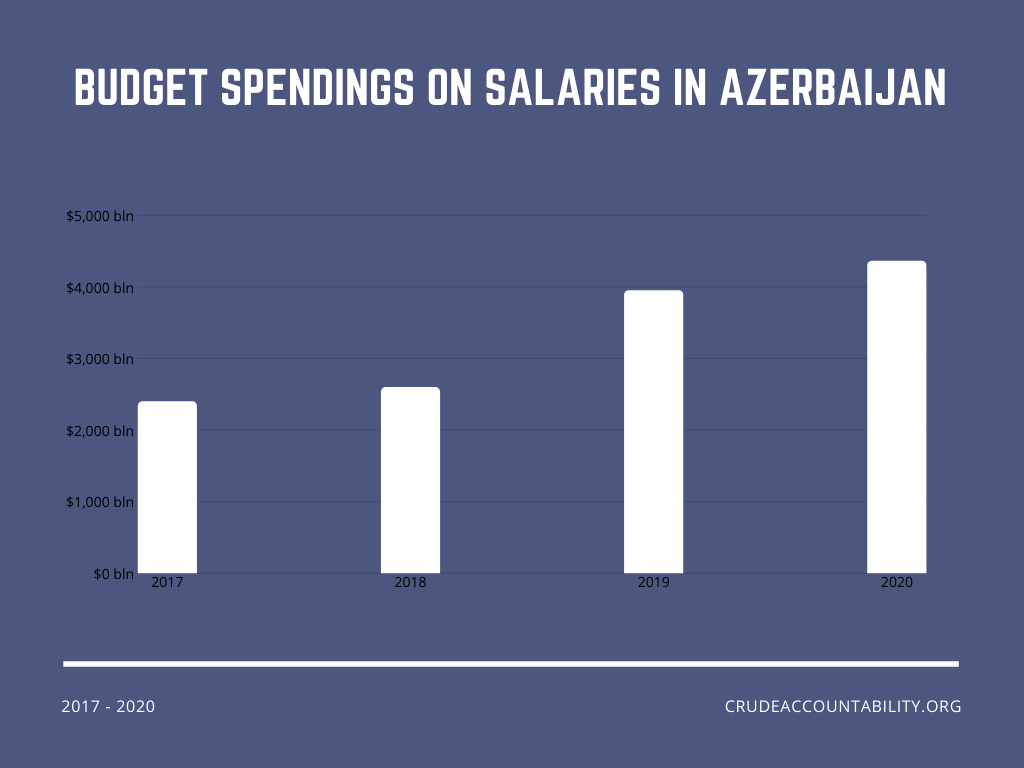 In 2019 the minimum salary increased approximately two-fold and grew from 130 AZN to 250 AZN. Who is benefitting from the increase?
Government Workers
Starting September 1, 2019, salaries of government employees increased on average by 40%.
For example, starting in September, monthly salaries of the Central Election Committee (CEC) employees have significantly grown, making the gap between them and the nominal average salary in the country even larger (see chart below).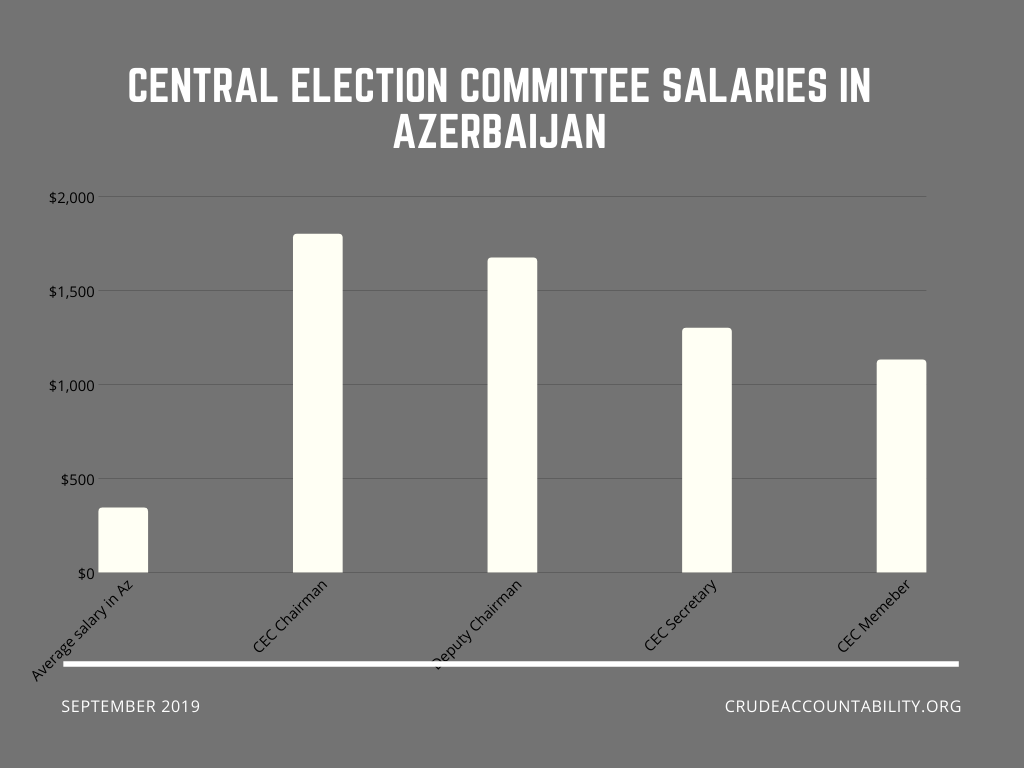 This increase in compensation for government employees and administration and members of CEC is aimed at "stimulating" their work. 
The vast majority of employees of the Central Election Committee and the Constituency Election Committees are representatives of the ruling party; thus it is easy to perceive that there are political reasons behind these large salary increases. These committees are perceived to falsify elections throughout the 26-year rule of the Aliyev family at all levels: municipal, parliamentary, and presidential.

Teachers
In compliance with the presidential decree, teacher salaries also increased by 20% on average starting September 1, 2019 – also a politically motivated move.
The majority of members of the Constituency and Precinct Election Commissions are heads and employees of state schools. Election falsification is mainly conducted with their direct participation.
In contrast, healthcare workers have not seen an increase in salaries.
According to the State Statistics Committee, on January 1, 2018, the average monthly salary of those working in healthcare and social services was $130.50 (222.50 AZN), while the average salary of education workers was $190 (322.2 AZN). Throughout 2018, there was no registered salary increase in either group financed from the state budget. Despite the fact that health workers received a smaller base salary than teachers, it is the education sector that received a 20% increase in salaries in September 2019.

Journalists and NGOs
The State Council on State Support of NGOs spent $17.4 million (29.5 million AZN) to finance 3906 NGO projects in 2008-2017.
In 2010-2015, $44.7 million (76 million AZN) was allocated to the media by the Reserve Fund of the President through the State Fund on Development of Media Outlets (SFDMO).
In 2010, Ilham Aliyev signed a decree on measures to strengthen the social protection of media workers of Azerbaijan. On National Media Day, July 22, 2013, 15 journalists and newspaper editors received apartments as gifts. A 17-floor, 2 block, 156 unit building was built through State means.
In 2013 the president signed a decree on the construction of a second building for journalists. Contact.az reported that a 255-apartment building was to be built within two years. Currently, 411 journalists live in that building. The construction of a 3rd building, which will provide free housing for journalists, has started and is expected to be completed in 2020.
According to the SFDMO report, $13.174 million (22 million AZN) was spent on construction of the first building, while $20 million (34 million AZN) was allocated for construction of the second building.
Court and Police
On September 1, 2019, salaries of court, law enforcement, and special services employees increased by 40%. This increase tightens the binds of law enforcement and special services employees to the State government.
The State Statistics Committee does not reveal information about average salaries of law enforcement and special services. However, based on the personally received information, it is possible to say that the average salary of a policeman in Azerbaijan is 1.5-2 times higher than the salary of a State University professor and at least 5 times higher than the salary of a doctor.
These salary increases allow the government to claim that a large portion of the budget from oil revenues is spent improving social welfare, when in fact it can be seen as entrenching the current regime. In this way, the regime puts both groups under its control and increases the repressive impact of oil revenues.
The increase of salaries of law enforcement and security forces can be linked to them being pivotal in repression against the opposition, independent experts, independent journalists, and bloggers, because those who receive high salaries, awards, and rewards could be more vested in prolonging the life of the current regime.