The State Oil Fund of Azerbaijan (SOFAZ) invests in luxury real estate abroad, but does not profit from these highly lucrative investments. In this article, we investigate why there is a decrease in profits from the Fund's investments in real estate abroad.
About the Author: Gubad Ibadoghlu, Senior Policy Analyst for social and economic studies at Azerbaijan's Economic Research Center, a Baku-based NGO that promotes economic development and good governance.
According to SOFAZ's Investment Policy real estate should comprise up to 10 percent of its investment portfolio. As of January 1, 2019, up to 5.25% of the total SOFAZ investments were in the real estate market ($2.02 billion).
According to SOFAZ's 2019 Investment policy, approved by President Aliyev, the main reason to invest in real estate is that it maintains its value for a long time and has a high mid- and long-term profit potential. With appropriate and transparent policy, it is possible to achieve both.
According to the State Oil Fund of the Republic of Azerbaijan Annual Budget Execution Report,
47.4% of SOFAZ's real estate portfolio is direct investment, 2.7% is an investment into debt funds, 34.5% is in fund investment and 15.4% is in joint investments.
In general, the profit from the SOZAF real estate portfolio averages 9.9% without considering the currency exchange difference. Despite the fact that the share of direct investment (47.4%) is higher than other sub-portfolios, its profit percentage is significantly smaller (3.83%). Profit from other sub-portfolios, especially from joint investment, was higher and equaled 42.03%; from the fund investment it was 15.76%, from the debt funds it was 13.81%.
Here is a list of real estate SOFAZ investments: (Market price of December 31, 2018)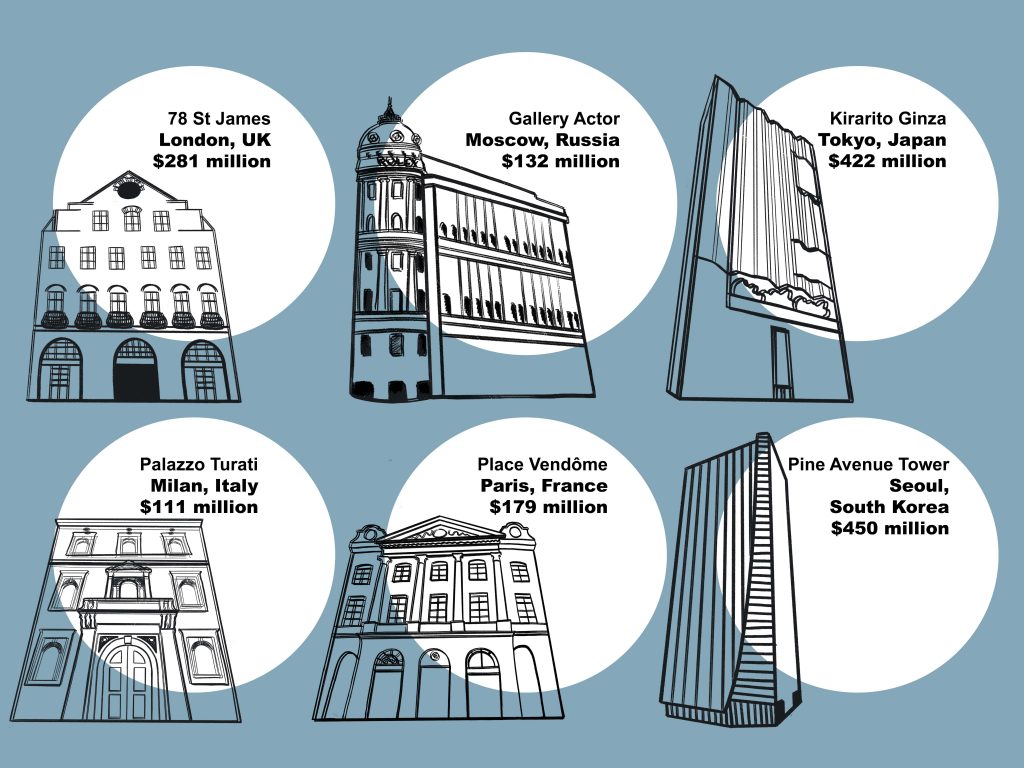 Whereas other companies profit from real estate, SOFAZ has been losing money from the investment in the office buildings it owns. Especially large losses were revealed after reassessment of London and Moscow properties owned by the Oil Fund.
London Real Estate
A building on St James's Street is in the central part of London, in the business block surrounded with numerous historical buildings. It was constructed in 1845, repaired in 2003 under the condition of keeping the facade intact, and is categorized as a class A office building. Its total area is 11,018 m2, its annual rent equals £9.65 million, and the net annual profit level is 4.5%. It is rented out to HSBC bank, which currently uses the building as the central office of HSBC Personal Bank in Britain.
SOFAZ purchased an office building unit worth £177.35 million ($285.6 million) in the West End of London in 2012.
Out of £34.74 million gained from the Fund's London office as rent, only £2.02 million (5.83% of the sum) was transferred to the budget. The Fund explained that the amount was so small because money was being transferred for restoration work to the building.
Currently, the property's market price is £120 million pounds. That means that the Fund's London assets have decreased by £57.35 million or $121 million, In other words, the Fund's property has lost 32.3% of its worth.
Moscow Property
Galleria Actor mix-use office and retail building is in the very center of Moscow, an area with prominent hotels, offices, and luxurious shopping boutiques. The building is at the intersection of Tverskaya Street and Strastnoy Boulevard, close to the Kremlin and Red Square. This building was opened as a theater building in 1881 and was renovated in 1995 with the condition that the historic facade of the building would be maintained. The total area of the building is 18,075 m2.
SOFAZ purchased the Galleria Actor in 2012 for $133 million. As of December 31, 2018, the property had lost $47.1 million of its market value and currently is valued at $86 million.
When the Oil Fund purchased this building, it claimed that the monthly rent of the building would be $9.6 million[Office1] . However, they only profited $66,000 from the rent of the building last year, earning $5,500 per month.
Even this sum was not transferred to the budget. Instead, it was used for expenses.
Table 1 summarizes changes of value of SOFAZ assets in the real estate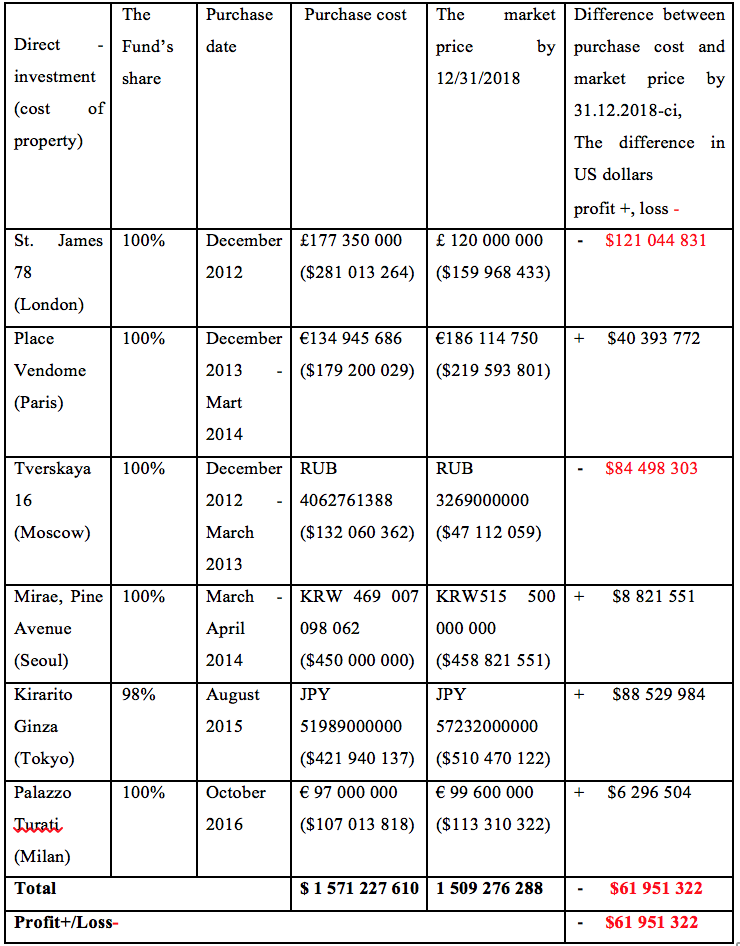 As the chart demonstrates, up to $62 million was lost in the difference between the purchase value and the market value as of December 31, 2018, which has dropped by $205.5 million.
SOFAZ investments in real estate are carried out through subsidiary institutions of the Fund. The expenses for maintaining these subsidiary institutions are provided through real estate profits. At first look, it seems like the real estate investments made by these subsidiary institutions aim to decrease the direct responsibility of the Fund and create possible tax benefits, but in reality, access to information about the work of these companies can expose hidden agendas.
Another indicator of bad oil profit management is a low level of profits from investment to the property market, which is rarely registered. Of course, certain people may profit from the market operations of SOFAZ, but these operations have no relation to the Fund or the budget.
This may be the reason that information about those who profit, especially owners of subsidiary institutions, is kept hidden from the public.
Recommendations:
Real estate is a lucrative market with high mid- and long-term profit potential. In order to make profits that people of Azerbaijan can benefit from, SOFAZ should implement clear and transparent policies such as:
• Providing public access to information on subsidiaries involved in managing SOFAZ real estate assets. Managing investments through affiliated subsidiaries companies reduces the direct liability of the Fund and creates possible tax deductions that do not benefit the budget;
• SOFAZ should publish lease agreements on property management;
• Due to low profitability and losses, SOFAZ should withdraw its investment from the Russian real estate market and equity.
In general, data analysis shows that there is a pressing need to develop regulatory and accountability mechanisms to manage SOFAZ real estate investments.

---
*Special thanks to Indira Pasko for helping with Picture 1.
[1] December 31, 2012, £ 0.631109 = $ 1
[2] December 31, 2018, £ 0.750148 = $ 1
[3] December 31, 2013 € 0.753045 = $ 1
[4] December 31, 2018 € 0.847541 = $1
[5] March, 2014 KRW 1070.862903 = $ 1
[6] December 31, 2018 KRW 1123.530484 = $ 1
[7] August 31 2015, JPY 123.214161 = $ 1
[8] October 2016, €0.906425 = $ 1
[9] December 2018, €0.879002 =$1