On November 28, 2014, at least 19 children and three adults lost consciousness in the school of the village of Berezovka, West Kazakhstan, and were taken to the Burlin district hospital in the city of Aksai. Six children were later transported to the regional hospital in Uralsk. On November 29, the Deputy Head of the Regional Health Administration, M. Aymurzieva reported that there has been exposure to an unknown toxic substance. On December 3, Regional Prosecutor S. Karamanov stated that gases were emitted within the territory of the Karachaganak oil field in excess of the maximum permissible concentrations of hazardous substances. On December 4, six more children in Berezovka were sent to the local medical post with symptoms of malaise, and three of them were evacuated by ambulance to the city of Aksai.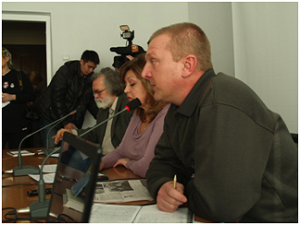 Berezovka is located in the proximity of "Karachaganak Petroleum Operating B.V." (KPO), which is one of the most dangerous industrial facilities in Kazakhstan. Since 2002, the residents of Berezovka independently, and with the help of human rights organizations, have repeatedly appealed to the public authorities and KPO with requests to relocate them out of the danger zone. Their appeals were of no avail, despite the fact more and more evidence is arising of increasing threats to the health and safety of the Berezovka residents.
Sergey Kuratov, of the environmental civil society organization "Green Salvation" stated that "The sanitary protection zone of the KPO borders the northern outskirts of the village of Berezovka. The adjacent location of the village has been for many years the justification for denial of resettlement of the villagers to a safe place. However, the establishment of a minimum five-kilometer sanitary protection zone does not ensure the environmental safety of the people from the emissions from the field. Moreover, in 2011, residents began facing dangerous sinkholes, which have been forming in the village and its surroundings. People directly link their formation with the ongoing development of the field. "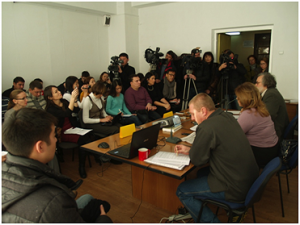 "The emergency situation which arose on November 28 is not surprising. This is a direct result of omissions by the public authorities, and violations by KPO of the requirements for environmental and industrial safety," said Sergey Solyanik, of US based NGO, Crude Accountability. "All of this has led to human rights violations, as well as to the fact that the villagers are subjected to discrimination based on their place of residence, social status and economic situation. The residents of Berezovka and their children are hostages of the Karachaganak field," he added.
Therefore, non-governmental organizations fully support the demands of the residents of Berezovka for immediate resettlement to a safe place of residence, as well as full transparency of the investigation and its results for the villagers, the public and the media.
FOR IMMEDIATE RELEASE
December 9, 2014
Contacts:
Sergey Kuratov, Chairman of the Ecological Organization "Green Salvation"
+7-7272-536256, <grsalmati@nullgmail.com>
Sergey Solyanik, Consultant, Crude Accountability
+7-707-7011271,  <ss_grs@nullyahoo.com>