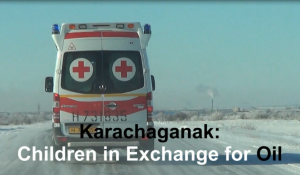 Crude Accountability is proud to announce that our documentary about Berezovka is among the finalists of the Human Rights film festival  The Right Cut,  Venezuela.
Karachaganak: Children in Exchange for Oil documentary tells the story of the gas emission that happened as a result of the accident on the Karachaganak gas condensate field on November, 28, 2014.
In the aftermath of the emission, health status of Berezovka children has rapidly deteriorated. In the documentary, we call oil companies and government authorities to take responsibility for the tragedy, to provide assessment and treatment of child victims of toxic poisoning.
The Right Cut film festival was founded with the support  of the international public organization A World without Censorship (Un Mundo Sin Mordaza). Festival features documentaries about the rights of children, women, elderly and disabled, the freedom of expression and peaceful protest, the right for clean environment and other pressing issues. International production companies, renowned universities and culture organization are among the supporters of the festival.