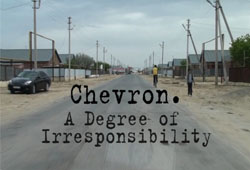 Widespread environmental violations, failure to disclose revenues and payments, and a long history of failing to take responsibility for these shortcomings are documented in a new film, "Chevron. A Degree of Irresponsibility," released today by Crude Accountability.  The film includes excerpts from an interview with Kazakhstani journalist, Lukpan Akhmedyarov.  In the interview, Akhmedyarov, who works for the Uralsk Weekly newspaper in Uralsk, Kazakhstan, discusses Chevron's operations in Kazakhstan at the Karachaganak and Tengiz fields.  The film is available on youtube at:
http://www.youtube.com/watch?v=Jya9fI96OAw&feature=relmfu
Akhmedyarov, an outspoken and independent journalist, was brutally attacked in April 2012 in what appeared to be an effort to kill him.  He was stabbed eight times, shot twice and hit in the back of the head with a blunt object shortly after publishing an article in the Uralsk Weekly about corruption in the local government.  He has since been charged with libel by one of the bureaucrats named in the Uralsk Weekly piece and fined 25000 Euro by the Western Kazakhstan court system.
[youtube_sc url=http://www.youtube.com/watch?v=Jya9fI96OAw&feature=player_detailpage width=425]
Chevron is one of the world's largest oil companies and the largest private corporation operating in Kazakhstan.  The Karachaganak and Tengiz oil fields are among the largest—and most sulfurous—in the world.  Chevron owns a 50 percent share at the Tengiz field as part of the Tengizchevroil Consortium, and an 18 percent share at Karachaganak, where it is part of the KPO Consortium, comprised of Chevron, BG, ENI/Agip and Lukoil.
"Chevron.  A Degree of Irresponsibility," is the second installment in Crude Accountability's films marking twenty years of Chevron operations in Kazakhstan.  The first film, "Chevron: Twenty Years in Kazakhstan," includes excerpts from an interview with Atyrau-based environmental activist, Makhambet Khakimov, and is available at: http://www.youtube.com/watch?v=Zw-pBV07yM4&feature=relmfu

For more information about Crude Accountability's campaign to hold Chevron accountable in Kazakhstan, you can read more at:
https://crudeaccountability.org/campaigns/chevron/ and https://crudeaccountability.org/campaigns/karachaganak/
Crude Press Release
August 2, 2012
Contact: Kate Watters
kate@nullcrudeaccountability.org
703-299-0854