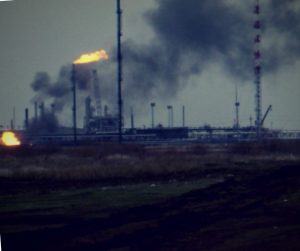 These days mark the third-year anniversary of the mass poisoning by toxic emissions of the Berezovka children. For the past three years, children have continued to suffer from loss of consciousness, headaches, seizures, numbness of the extremities and other symptoms of a serious disease—toxic encephalopathy. That was a diagnosis received by three children in Moscow.
Four children were diagnosed with poisoning by a toxic substance in one of the private clinics in Kazakhstan. However, the vast majority of affected children have not been able to get real diagnoses and treatment. The public hospitals of Kazakhstan refuse to recognize the toxic poisoning, and the children's parents cannot afford private or foreign clinics.
That is why this year Crude Accountability and the Children or Oil Coalition launched a crowdfunding campaign to raise money in support of medical assistance to children from the village of Berezovka.
https://www.gofundme.com/children-of-berezovka-get-well.
We are currently collecting money for four girls, who are among the most adversely affected from the village and are at risk of becoming disabled without prompt examination and competent treatment from the effects of toxic poisoning.
Kazakh authorities and KPO refuse to take responsibility for the tragedy. In 2016, the parents of the affected children, supported by environmentalists from around the world, sought help from the consortium members, the government of Kazakhstan, and the leaders of the participating countries of KPO., Unfortunately, they did not receive an adequate response. As a result, they are now asking for help from ordinary people. Anything helps! Please help us LIKE and SHARE the campaign via social media.
"Our coalition will continue to seek help for the Berezovka children. We invite all who do not want more injured children to join us. For us, these children are our children", says Sergey Solyanik, consultant for Crude Accountability and co-coordinator of the "Children or Oil" coalition.
***
On November 28, 2014, 25 children and 4 adult residents of Berezovka fainted, developed strong cramps, became dizzy, and experienced blood pressure surges and severe headaches. The village of Berezovka is located in the West Kazakhstan region, in close proximity to the Karachaganak oil and gas condensate field, one of the world's largest.
The Children or Oil coalition asks Chevron, Eni, the BP Group (now Shell), Lukoil and KazMunaiGaz and Kazakhstan authorities to take responsibility for the tragedy, to recognize that there was a toxic poisoning as a result of an industrial accident, and accordingly to arrange for the examination and treatment of Berezovka children and ensure that they are compensated for any damage to their health.