RUSSIAN COURT REDUCES EVGENY VITISHKO'S PRISON SENTENCE 
IN 10 DAYS HE IS EXPECTED TO BE FREE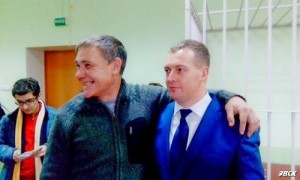 On November 10, 2015, the Kirsanov court (Tambov Oblast) held a hearing on reducing Evgeny Vitishko's sentence based on Article 80 of the Russian Criminal Code. The court made the decision to free Vitishko from the prison colony, and if today's decision is not appealed by the prosecutor or the prison representatives, Evgeny will be released from the prison colony in 10 days. The remainder of his sentence will be served on parole. While Vitishko can return home on November 20th, the court will hear a second appeal by Vitishko regarding granting him parole on November 16, 2015.
Today was the second time the Kirsanov court heard this appeal. The first time, on July 31, 2015, it denied Vitishko's appeal to reduce his sentence. After that the Presidential Council for Civil Society and Human Rights addressed the unfairness of Vitishko's imprisonment with President Putin, and he ordered an investigation into the case. Soon after, the Kirsanov court overruled the decision of July 31, 2015, which denied Vitishko's appeal to reduce his sentence.
Members of Environmental Watch on the North Caucasus (EWNC) representatives of Bellona-Russia, members of the movement 'Stop Nickel' and a member of the European Union came to the court to support Vitishko.
The prison colony representative and the prosecutor supported reducing Vitishko's sentence. Vitishko's defense team requested that the remainder of his sentence be replaced with a fine, however, the prosecutor stated, "It is difficult to measure the amount of the fine; it would be easier to replace the remaining part with a suspended sentence." The court decided to reduce the remaining part of the term with restriction of freedom.
Evgeny Vitishko is an environmental activist and member of the organization, Environmental Watch on the North Caucasus, and has been in prison since February 2014, when he was imprisoned for allegedly writing graffiti on a fence.
More information:  (903)0287796, (904)2191851, Attorney Sergey Loktev (910)3430075, Anna Mikhailova (EWNC)
Contact: Yulia Genin
yulia@nullcrudeaccountability.org
Phone: 240-883-2670