What a year it has been! We have to admit we're not sorry that 2020 is coming to a close. Crude Accountability faced our share of challenges, as did our local partners and friends. Yet we are hopeful that 2021 will bring relief from, and demonstrate our collective ability to prevail over, the global pandemic, climate chaos, and civil and human rights violations. We absolutely could not have done it without you! Thank you for your solidarity and support—it has enabled us to remain positive and enthusiastic about the work ahead of us.
Like many organizations around the country, we had to change our operations considerably in March 2020. Luckily, we had been working remotely for the past 17 years, and were well prepared for the transition to a new reality. With digital security and safe communications protocols already in place, and with a focus on staff safety and wellbeing, the changes have been challenging, but manageable.
With your support, our intrepid partners have been facing the pandemic and political turmoil with courage and perseverance. Here are a few examples:
In Turkmenistan, one of the most secretive countries in the world, the authoritarian and corrupt government has been denying the very existence of coronavirus in the country, ignoring international health authorities' recommendations, and hiding the real numbers of victims of "pneumonia." Our brave Turkmen partners informed us about this criminal neglect and we brought it into the international spotlight by participating in a number of virtual panels and events, and producing blogs and other publications on the issue.
Azerbaijan, in addition to contending with the pandemic, has been at war with Armenia. The territorial conflict has resulted in thousands of casualties on both sides. We are only now learning about the real number of victims as the countries recently agreed to a ceasefire. Our Azeri partners have also been suffering from a further crackdown on civil society, censorship, and restricted internet access. In this challenging context, we are finding new innovative methods to work in Azerbaijan such as analyzing satellite images to track pollution and environmental degradation.
In Russia, our partners are steadfastly documenting environmental violations in their region and protecting the environment along the shores of the Black Sea and its surrounding forests while experiencing continued pressure and violence from the authorities. On November 18, 2020, the office of Environmental Watch on the North Caucasus was raided again, for the 7th time in the past few years. Special Forces militia forced EWNC leader Andrey Rudomakha face down on the floor, dragged him to a police vehicle without allowing him to put on shoes and warm clothing, and subjected him to a lengthy interrogation. Some of the activists' assets and documents were seized.
In Kazakhstan and Uzbekistan, we are collaborating with communities impacted by Chinese oil and gas development. With all travel halted, we researched, conducted audits, held webinars, and produced publications on the issue. In December 2019, we premiered The Other Side of Oil, a striking documentary about ordinary villagers whose health has been terribly impacted because they live so close to oil operations. In 2020, the film was translated into five languages: English, Russian, Kazakh, Korean, and Chinese!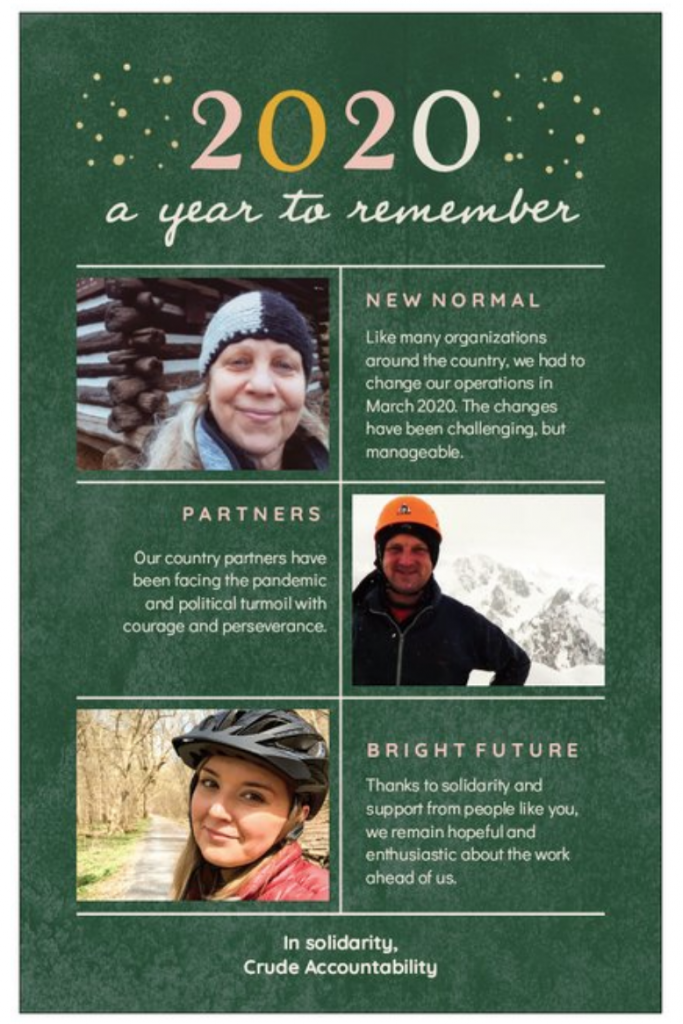 Keep your eyes peeled for our upcoming in-depth report on Chinese oil and gas investment in Central Asia, which provides a unique viewpoint from inside the region on a topic that otherwise gets little coverage.
Due to your generosity, we accomplished a great deal despite the pandemic. This year has demonstrated how vital it is for us to be connected – to each other and to the larger international community. Connection with the global civil society movement is a matter of survival for all of us as we address global environmental concerns, but it is especially critical for our partners abroad as they also face severe repression from authoritarian regimes. Individual donors like you make a real impact on the lives of activists throughout the former Soviet space by contributing to our work. Thank you so much.
We ask you to give a first-time donation or renew your support to us and our indomitable partners at https://crudeaccountability.org/support-crude/ or by writing a check to Crude Accountability, c/o Kate Watters, 23 Warbler Way, Linden, VA 22642.
With best wishes for happy, healthy holidays,
Kate Watters, Executive Director
Leanne Grossman Chair, Board of Directors