Leanne Grossman
Crude Accountability Board Member
May 26, 2011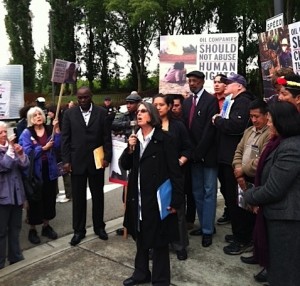 Three things struck me yesterday when speaking up with representatives of suffering communities in the Chevron annual shareholders' meeting (May 25, 2011).
1) People talking about their families dying of cancer in the zones where Chevron operates didn't make CEO John Watson blink even once.
Whether the board of directors blinked or not, we couldn't tell because they sat in the front row with their backs turned to us the entire time. It was a show of profound disrespect, especially to the people who had traveled from Ecuador, the Philippines, Alaska, Canada, Angola, Indonesia, Nigeria and Texas, to speak to them.
2) Three security agents hired for every one of the 22 community delegates who entered the room with legal proxies shows that Chevron is scared that as the truth gets out about its human rights abuses and about thefact that the technology they boast does not prevent severe environmental pollution, there will be hell to pay among stockholders.
One example of what communities are facing: As a board  member of  Crude Accountability, I was honored to speak on behalf of our partners, the villagers of Berezovka, Kazakhstan. The villagers met last week and prepared an appeal letter for Chevron's leadership, which I delivered, and which CEO John Watson so much as dismissed without reading it. After I spoke, he said, inaccurately, "We are in compliance in Kazakhstan." But the company is not in compliance at all. In 2010, the consortium was fined $13.5 million for excessive emissions. The reason the 1,300 villagers have been demanding relocation and compensation for the past nine years is that they are suffering acute respiratory problems, nosebleeds and a staggering rate of stillbirths. "We suffer constantly from the impact of the emissions from Karachaganak [the oil and gas condensate field where Chevron and the private consortium pump and refine oil.] According to the results of numerous studies…almost 50 percent of the population suffers from chronic health problems," the villagers declare in their letter to Chevron.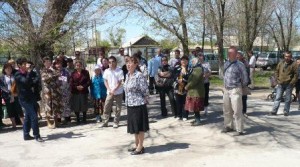 Chevron will tell you they put money back into communities. Indeed, they committed $50 million to the Global Fund to Fight Aids, Tuberculosis and Malaria. Given Chevron's $19 billion profits in 2010, that is only 0.26% for charity. It has nothing to do with cleaning up the other communities they've scarred and ruined, which makes it, in effect, guilt money. It's used as a cynical cover-up to paint over the destruction of the communities that may block their pathway to profit, both literally and figuratively.
3) There is no shortage of courage in the communities fighting Chevron's inordinate financial and political power. The breadth of the True Cost of Chevron Network, which joins activists together, spans many countries and includes several regions in the U.S. If Chevron thinks that giving people two minutes a year to speak about the catastrophes in their homelands is going to silence us, then they don't realize the power of unity across cultures and nations. If anyone means "business," it's the True Cost of Chevron Network.
Originally published at http://portfolio-of-passions.com/chevrons-arrogance/.