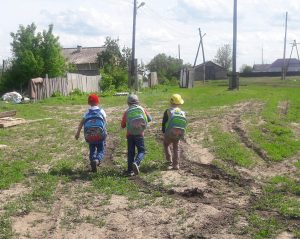 In early July, the Children or Oil? Coalition launched a letter writing campaign addressed to the companies responsible for poisoning children from the village of Berezovka, Kazakhstan on November 28, 2014. Parents of the affected children, environmentalists, and human rights activists from all over the world demand that Karachaganak Petroleum Operating BV (KPO),  BG Group, Chevron, ENI, Lukoil and KazMunaiGaz provide funding for medical evaluation and treatment for the affected children.
The campaign was initiated by the Children or Oil? Coalition and the parents of the affected children from the village of Berezovka in West Kazakhstan, located in the immediate vicinity of Karachaganak, one of the world's largest oil and gas condensate fields. Most parents cannot afford to take their children to be examined and treated in hospitals abroad, where they can obtain a real diagnosis and quality treatment. The Kazakhstani state medical institutions have diagnosed the children with non-toxic poisoning and the children have not received appropriate treatment, without which many of them may become disabled.
The letters were signed by such reputable and well-known organizations as the Kazakhstan Bureau for Human Rights and Rule of Law, Social-Ecological Union/Friends of the Earth (Russia), the Norwegian Helsinki Committee, Netherlands Helsinki Committee, Women in Europe for a Common Future (Germany), The International Persistent Organic Pollutants Elimination Network (USA) and many others.
The letters were sent to KPO as well as to the head offices of the oil companies in the US, UK, Italy, Russia and Kazakhstan. The letter stated, "We, the parents of the affected children from Berezovka and representatives of the international community, appeal to you with the demand to provide funding for medical examination and treatment of children… We believe that the children's illnesses are directly related to toxic emissions from the Karachaganak gas condensate field… However, parents of poisoned children have not received any compensation from KPO, or from the Kazakh authorities for damage to their health."
"We believe that KPO and the consortium members have an obligation to ensure that the parents of the sick children of Berezovka receive funding for medical examination and treatment. If we do not get a positive response, we plan to appeal to the heads of the countries, where these companies are registered," said Sergey Solyanik, consultant for Crude Accountability, co-coordinator of the Children or Oil? Coalition.
On November 28, 2014, 25 children from the village simultaneously felt ill during school hours. They reported dizziness and suffered convulsions and loss of consciousness. Over the past year and a half, these children continued to suffer severely from these symptoms and other signs of toxic poisoning. The same symptoms were reported by other children as well. Even children who were resettled in the nearby town of  Aksai continue to have similar health problems. According to prosecutors of the Western Kazakhstan Region, gas emissions exceeding the maximum permissible concentration of toxic substances were registered from the Karachaganak Field on November 17, 18, 25 and 27, 2014.