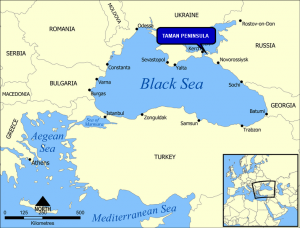 Traditionally, fishing, farming, wine making and tourism have formed the basis of the local economy, especially on the Taman Peninsula itself. Fields of grapes, wheat and even rice are visible from the roads, and the seashore is lined with traditional fishing nets that drape out hundreds of feet into the sea. The town of Taman boasts an archeological museum with Greek artifacts; the population is proud of its ancient history and claims continual human habitation on the peninsula for 2600 years. Homer wrote about Taman, as did Pushkin and Lermontov; a statue of Lermontov graces the streets of Taman and copies of his short stories are available in the town's book and tourist shops. The Greeks and Romans, Scythians, Mongols and Russians have taken turns invading this territory and their legacies are felt in many ways, from the archeological finds to the traditions of the people to the annual Greek festival. In addition to the Black and Azov Seas, Taman is home to mud volcanoes with healing clay and an inland Salt Sea, which also holds healing properties in its black, oozing mud. Unpolluted and relatively undeveloped, the Taman Peninsula appears to be the perfect spot to develop sustainable tourism and to continue with the fishing and wine making traditions of the past centuries.
Unfortunately, the current economic plans for the peninsula involve a different type of development: eight oil and gas terminals are planned for the peninsula as the Russian government seeks to turn Taman into the second largest port area in the country. Only Novorossisk will be larger if these plans come to fruition.
History of Activism on Taman
In the 1990s, the Russian company Togliattiazot began building an ammonia terminal on the Taman Peninsula. The company applied to the IFC for financing, and a broad-based local campaign against the project began. Environmental Watch on the North Caucasus (EWNC), led by Andrey Rudomakha, spearheaded the campaign, which was ultimately successful in stopping IFC financing and the project.
Activists from EWNC and other environmental organizations camped out on Taman until the project was stopped, receiving support and solidarity from local residents. A number of activists were arrested for blocking the main road to the terminal and spent almost two weeks in prison.
As the Russkiy Mir project gears up, local residents remember the activism against the Togliattiazot project and are opposed to this terminal as well.